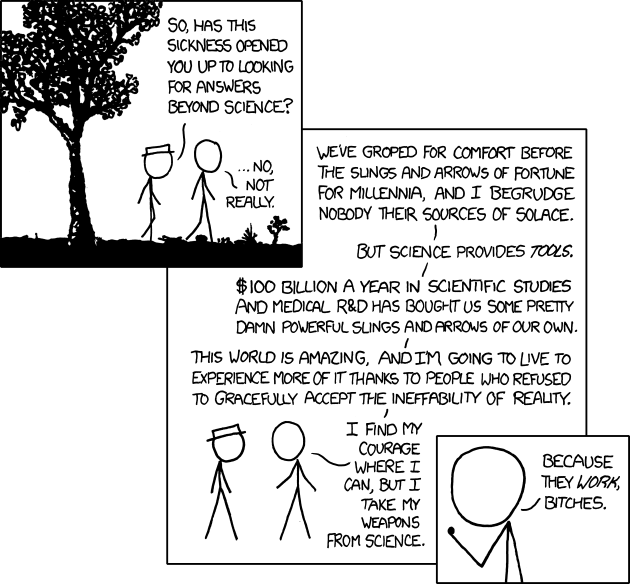 Alex recently wrote
a good post
about a recent xkcd comic that I found rather annoying; he and I talked about it together and decided that we would write separate blog posts. He wrote first, so I am sort of responding to what he wrote as well but mostly responding to the comic.
The comic annoyed me primarily because I'm almost a doctor, and I feel like the comic really misrepresented medical science. Quick caveat: I am really thankful for medical science and everything that $100 billion a year in R&D has gotten us. I'm alive because of it, and so are a lot of patients that I've taken care of over the years.
That being said, I think that there are a lot of things that $100 billion a year in R&D hasn't gotten us. It hasn't done much to help us talk to a patient who needs a drug that cost millions of dollars to develop because he smoked for decades. It hasn't stopped us from giving people million-dollar drugs that don't need them. It keeps some people from dying, but it leaves us speechless when we try to talk about whether or not to let them die. It sure hasn't figured out how to give people the fruits of our labor without the possibility of harming them further (one could argue that I was nearly dead because of medical science just as much as it saved my life.) There isn't a huge list of medical treatments that work with p <0.05 confidence, and most of what we do is based just as much on experience, intuition, and conversation. A gentle touch, sitting down, or listening without interruption are often more valuable than million-dollar drugs. And that's not even touching how much of that $100 billion a year is spent trying to reformulate drugs we've had for decades so that they can be re-patented and resold for higher prices.
So I was bothered by that aspect of the comic. A little. But I was also bothered by another thing-- and that is the pitting of a worldview that isn't looking for answers beyond science against one that does. To me, this is the more dangerous fallacy. It's been noted before that generally, only atheists perceive that there is an impassable conflict between science and religion; most religious folks are very willing to say that science and the scientific method have their place in our worldview. There is intense debate among Christians about what that place is, but they all have a place. Furthermore, I doubt many atheists would put science on such a pedestal that it ought to somehow define all of our lives and livelihoods-- there are far too many failed attempts at this in the last century that would stop such a suggestion dead in its tracks. Science is a like a set of woodworking tools: incredibly useful in their place and powerful in their own right. But take them into a machinist's shop and they're dangerously useless.
Science is really great. It's done a lot of really spectacular stuff, especially in the world of medicine, and I'm thankful for it. But it can't give us answers to a lot of the questions that really bother us, which is why the person in the comic answering the question didn't say anything about what else beyond science. He seemed very content with a system that has given us 20-40 more years of life and made the other 40-50 years of life more comfortable. I am pretty happy with that myself, but certainly not anywhere near satisfied. And if you are genuinely content with the power of science, I have to ask: Is that what you'll settle for?
The question asked in the comic is, I think, a reasonable one. Assuming that the two dudes are friends, I think there's grounds to ask it. I might compare it to a doctor asking a patient if they had thought about reconsidering their own diet after the patient's dad got admitted for a stroke or a heart attack. I do not think that all suffering comes with a built-in meaning that will reveal itself to us if we would only have enough faith. However, that is a totally different proposition from the one that says that your suffering might be entirely meaningless. Both of those extremes-- that suffering always has a meaning that you can perceive if you're strong enough, or that suffering is meaningless-- are incredibly callous, especially to people who suffer a lot. When we experience tragedy and suffering that overwhelm us, it's an entirely normal impulse to ask, "why?" Furthermore, I think its an entirely reasonable response to say, "Because."
The practice of medicine, to me, has a lot of similar to the practice of believing. Day after day when a doctor sees his or her patients, he or she encounters questions that don't have double-blinded randomized clinical trials to answer them. A lot of a doctor's decisions are shaped by evidence, and when something is crystal-clear then he or she does it without hesitation. But practicing well-- and living well-- takes a lot of careful thought in weighing the evidence we've seen, the reason we've been given, the experience we've had, and the intuition we nurture. Science has done a lot in the last 100 years, and I hope that we see even more in the next 100 years. God has given us incredible blessings through science that we ought to be thankful for. But there are things that I don't think we'll ever answer with science, and we should not be so hasty to assert that the progress science has made somehow makes those questions irrelevant. Because they still are, and the God who gave us the power to investigate the world also gave us a way to learn some of those answers.